OK calm down. Yes, we are still having our annual bonfire party. We are keeping it in September as spring is such a lovely time of the year in the vineyard - let's just hope the variable September weather smiles kindly upon us on
Sunday 20 September
. If rain is forecast on Sunday, then we will switch to Saturday - keep an eye on our website for updates.
The time and format of the party hasn't changed. We will provide some meat for the BBQ, salads and sweets, but as we don't know how many people will actually rock up on the day, we ask that you please bring something for the communal table to share, especially if you are coming with friends.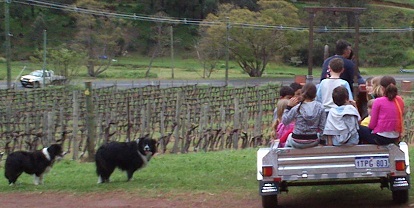 Our wines will be on sale on the day, so if you've been diligently rationing your wine supplies, you can relax and give in to temptation. Mixed red dozens will be on sale for $150 (there is a 3 bottle limit on each of Shiraz and Cabernet due to low stocks). We are very grateful for your support which helps us keep our small little business alive!


WHERE
: Aldersyde Estate, 226 Aldersyde Road, Bickley


WHEN
: Sunday 20 September 2015
TIME
: open for sales 10am-5pm, BBQ around 1pm, bonfire 3-4pm
WHAT TO BRING
: meat or a plate if you're coming for the BBQ, warm clothes, fold up chairs or picnic rug
GOOD IDEA:
check the website the week before to make sure the bonfire is on Sunday and not Saturday!