Wines
All our fruit is handpicked and hand sorted before being crushed and fermented. The red grape skins are then pressed in a hydraulic wooden 2 tonne basket press to extract the press wine as gently as possible.
We limit movement of wine where possible, choosing the gentle motion of gravity rather than pumping when transferring wine to barrel. Increasingly in the cellar we are looking to produce more natural wines, for instance using some foot-treading or hand-plunging (pigéage) with pumpovers during fermentation and indigenous yeasts instead of manufactured yeasts and products. We believe this is part of the excitement of discovering the wine's "voice".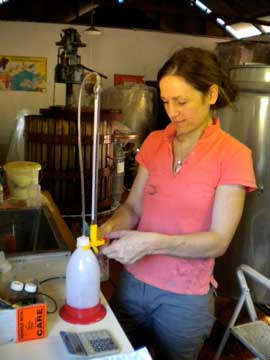 "
I can say with all honesty (and some pride) that our wines are truly handcrafted. They are not your standard mass-produced wines. Our wines have a voice. They have something to say about where they're from and about what the vintage conditions were like in a particular year."
-- Di Bray
We produce 6 wines - Saignée, Chardonnay, Merlot, Cabernet Shiraz, Shiraz and Cabernet Sauvignon.
These wines are available for tasting by appointment at the winery. Due to the tiny quantities available (approximately 100 dozen per wine style), we do not sell our wines through retail outlets.